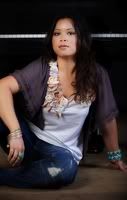 Peace, Love, & Global Harmony to All of God's Rainbow Tribes…
From Saigon to Southern California Indie Artist Giana Nguyen featuring EP Debut "For Now
".
Every now and then the inspiration of others let's us know how blessed we really are. Giana and her family is a wonderful example of this they have endured so much in their lives impacted by
post-Vietnam War era conditions. A true reflection of how one can still dare to dream in the mist of life's storms, trials & tribulations. Giana, and her family continued their dreams, through persistence towards a better tomorrow.
Giana's dream is captured within her EP debut of "For Now" it's an awesome reflection of someone who believes in love, romance, happiness, and the overall joy for life.
Her true passion of a career of making music, however, was a different path than expected. She had a very brief flirtation with the spark of songwriting within her at age 14, when she wrote her first 2 songs. Just as quickly as the spark ignited, though, it was made to wait. "I guess you could say I started with

Plan B

for familial and personal obligations, and chose a more practical career path in the

health care industry

, before circling back to

Plan A

, which was music."
After earning her

B.S. degree in HealthCare Administration

and working a good handful of years in a field far removed from the musical passion inside her, she decided to return to "Plan A" and began apprehending her dreams as a songwriter/performer and music business entrepreneur.
So, sit back relax have a cup of coffee, tea, or a glass of wine enjoy a good conversation & music. Be inspired, encouraged, and empowered by "Giana Nguyen".
Program Notes
:
*The show is live music intro "Just For This Moment" from her EP Debut "For Now
".
Stay tuned & visit to "ESpiritE-Radio7" by visiting http://www.espirite-radio7.net
Airs Live Friday, 7/1/11 @
3:30 - 5:00 p.m. Pacific Time, USA
5:30 - 7:00 p.m. Central Time, USA
6:30 - 8:00 p.m. Eastern Time, USA
(712) 432-0075,

Listeners Enter:

533869#