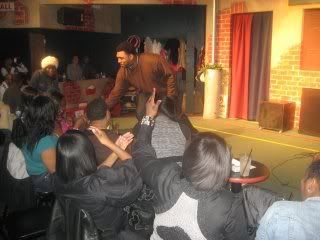 Peace, Love, & Global Harmony to All of God's Rainbow Tribes…
A Professional Comedian from Chicago BIG O has been rocking Audiences Nation wide since his

National Television debut on BET'S ComicView in 1999.

His raw, real life, energetic, humor has left audience begging for more. Look for this raising star in a city near you in 2011 You will not be disappointed!!!
Comedian Big 'O' is one of the hottest comedians to hit the circuit in a while. This energetic and quick witted comedian has been making audiences laugh since his national television debut on BET'S COMICVIEW IN 1999. Big 'O' has also appeared on

The Big Black Comedy Show DVD

series Hosted by Micheal Colyer and Adele Givins as well as stared in a movie called

"Squatters Right

"

with Damon Williams. BIG 'O' has also opened for such acts as Bernie Mac, Micheal Colyer Damon Williams and Corey Holcombs just to name a few. So look out world Big 'O' is coming to bring the funny in a town near you.
Despite Omar taking a moment away from the comedy, he keep himself busy by thinking ahead. In between time he study Computer Science and is also an electrician. This is an example of a man with a plan, and now he graces the stage again to continue his dream as a comedian.
So, sit back relax have a cup of coffee, tea, or a glass of wine and enjoy some good conversation, comedy, and music with Comedian Omar Helm a.k.a. Big O.
Come Join us by listening in to my interview with
Comedian Omar Helm a.k.a. Big O, Wednesday, 7/29/11:
Program Notes
:
*The show is live music intro

"Stop the War"

from her
"..
Stay tuned & visit to "ESpiritE-Radio7" by visiting http://www.espirite-radio7.net
Airs Live Wednesday, 7/27/11:
3:30 - 5:00 p.m. Pacific Time, USA
5:30 - 7:00 p.m. Central Time, USA
6:30 - 8:00 p.m. Eastern Time, USA
(712) 432-0075,

Listeners Enter

: 533869#
The Marmon and Comedian Big O Presents Funny 4th Friday's Comedy Show Hosted by BET'S Comic View Big O Featuring BET ComicView Comedians Damon Williams, Ray Lipowski, and Chasity Washington @ The Marmon Grand Ballroom 2230 S Michigan Ave Chicago Friday, 7/29/11 Showtime 8PM Cover $20 Advance $25 at the Door
Marmon Grand phone#:
(312) 225-8100